An American in Kelowna – UBC Okanagan Women's Volleyball Team was Schön the way Saturday Night and Turned 19
An American in Kelowna – UBC Okanagan Women's Volleyball Team was Schön the way Saturday Night and Turned 19
Here's the athletic algorithm that programmed UBC Okanagan Women's Volleyball Team (Heat) to a Saturday night straight-set victory over the Brandon (Manitoba) Bobcats – #13 helped #3 reach #19 for the first time in school history.
Nice work, ladies. A record-breaking year. Now the fun begins. Dig in. Time to ace your final exam.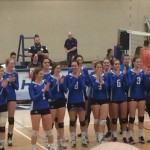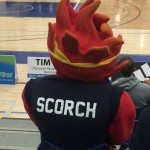 Elaine and I had the pleasure to sit courtside at the UBC Okanagan gymnasium and capture every bump, set, and kill. The Heat sizzled 25-15, 25-20, 25-19. Eighty minutes of exercise. The crowd was vocal. The refs were in control. Scorch, the Heat mascot, had a lukewarm evening.
UBCO Sports Information Director (SID) Cary Mellon had invited us to come out for a blog-able experience that served up a high-wire second act – the men's match between the same two Canada West universities. It was three plus hours of big air, net warfare, and yellow cards.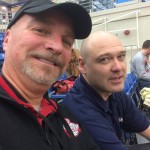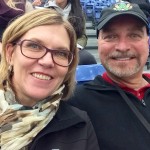 Back to our winning algorithm and coding:
#13 was Myrte Schön, a fifth-year outside hitter and Nursing student for the Heat. It was seniors' night, she was the team's only graduating player. The 5-11 fireball from Langley, BC came off the bench to register three kills and six digs. She finished her career with 504 kills, eighth best in school history.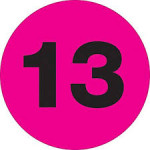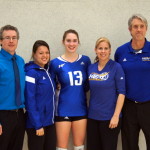 #3 was the Heat's Canada West ranking coming into the match.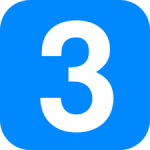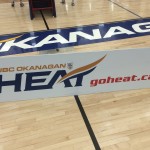 #19 was the record-breaking number of wins (19-5 overall) in school history. Kudos to Coach Steve Manuel and his staff for an outstanding season leading a young squad.
After the final whistle, the Heat has been turned up to 100 Celsius. For the second time in UBCO's CIS (Canadian Interuniversity Sport) history, the school will host a Canada West postseason series. The CW quarter finals, a best-of-three, will take place at the UBC Okanagan gymnasium on Friday (Friday the 13th), Saturday (Valentine's Day), and Sunday (recovery from roses and sweets day).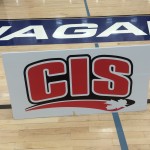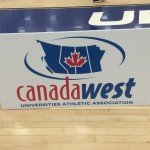 This high-water mark in wins ties the Heat for first place in Canada West," said Mellon after the match. "Yet with the CW's tie-breaker system, the team will be the third-ranked team entering the postseason. Next weekend is going to be exciting and very busy."
These are my down-the-line observations:
The Heat's roster is comprised entirely of Canadian players – five from Kelowna, four from Calgary, two each from Surrey, BC and North Vancouver. Five are majoring in Human Kinetics.
First-year libero Sophie Furlan went to Sir Winston Churchill High in Alberta.
Katie Wuttunee (middle) is the tallest player at 6-3, Katy Klomps (middle) is 6-2.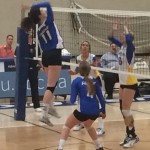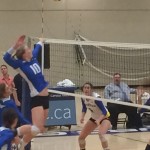 Heat player coolest names – Megan Festival, Chandler Proch, and Brianna Beamish (outside hitter with 11 kills and 10 digs on Saturday night).
In the men's match – it was a major-ups battle between the Heat's Jim Bell (6-6, outside hitter) and Sam Tuivai (6-4, outside hitter) of the Bobcats. Both big swingers displayed serious elevation and hang time for thundering kills. Both were consistently set for front-row and back-row attacks. Find'em and feed'em.
Tuivai and teammate Roy Ching are members of the New Zealand National Team.
Bobcats outside hitter Sebastian Steigmeier (6-7) is from Geneva, Switzerland. He's known as the "Swiss Superman" and ranks in the conference's top five in kills.
Canadian Interuniversity Sport (CIS) consists of:  Atlantic University Sport (AUS), Réseau du sport édudiant du Quebec (RSEQ), Ontario University Athletics (OUA), and Canada West Universities Athletics Association. (CWUAA).
Canada West Universities Athletics Association (CWUAA) consists of 17 universities. Strictly by name, my three favorites are:  the University of Lethbridge Pronghorns (similar to an antelope), University of Fraser Valley Cascades, and University of Victoria Vikes.
Bonus Points:  Before the Women's match started, Elaine and I had a chance to meet with VB official Hal Hennenfent. He worked both matches. Hal is the Volleyball Regional Officials Chair – BC. He does most, if not all, of the VB scheduling for the Kelowna area. Once I get a Work Permit – I'm hoping Hal will include me in his scheduling rotation. Gotta brush up on FIBA rules and mechanics, first.